Science Fun for Kids
Now Serving All of Upstate South Carolina!
Our curriculum development team is hard at work developing new programs that go hand-in-hand with the SC Science Academic Standards. Get ready to go beyond meeting the standards & start experiencing them!
Make science make sense & reserve your field trip today!
Call us at 828.684.3192 or Book Online!
---
High Touch High Tech of GSP is pleased to announce
the launch of our Monthly E-News:
July 2019 E-News: Shark Awareness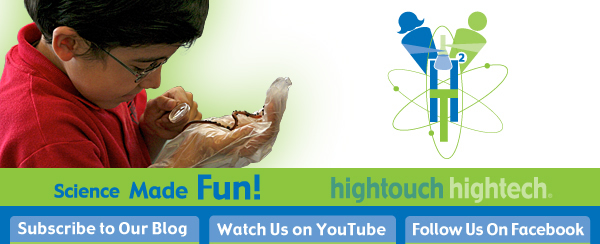 We hope you find the information FUN and educational!
To view past e-news editions, visit our Media Page
---
High Touch High Tech has been fueling the imaginations of children everywhere, since 1994, by providing FUN, interactive, hands-on science and nature experiences for children. We have developed a reputation for excellence with children, parents, school administrators, preschool and camp directors alike who have recognized the positive impact of our programs in the scientific learning process.
All High Touch High Tech programs incorporate hands-on activities that relate directly to a particular scientific concept. Every child participates in experiments that help bring that concept "to life". Your students will become "Scientists" along with our team of professionals, as we guide them in the learning process.
We are committed to moving STEM education forward within our community. HTHT of GSP is a proud supporter of the Science, Technology, Engineering & Math initiative that is taking our Nation by storm.
Our goal is to stimulate young minds, activate their curiosity, and nurture the child's budding imagination. We accomplish this mission in a safe and stimulating way, as the child incorporates a lifelong love of science! With more than 4 million children participating in our programs annually, High Touch High Tech has emerged as the leader in innovative science programming.
---

Sponsorship of a High Touch High Tech program is a great way for businesses and organizations to impact the children of Upstate South Carolina directly. The students of today are the scientists of tomorrow!
Whether it's a single in-class workshop, a school-wide science day or a family science night, your donation may open the door to wonder and expose local students to the amazing world of science. Sponsorship & company based scholarships can bring tremendous recognition to your organization and leave a lasting impression on each child that participates in our educational and entertaining hands-on science experience.
Businesses and organizations that are interested in making a contribution to their community are invited to contact our office to discuss available sponsorship opportunities with High Touch High Tech!
Back To Top